You are welcome to join at anytime. Perceptive Habits is a free group community on Facebook.
Start dates for 2019 are August 13 and November 5, 2019. Our group is open to anyone on the path to living a healthier life, learning and applying habits at your own pace and to fit within your own daily life.
We learn and grow as a dynamic group, exploring the book, Body Thrive by Cate Stillman. This group is hosted by Brenda Kyle, Perceptive Healings. Let's get started!
design your own health…
"…When you don't act on what you've learned, you turn your direction toward suffering. Suffering ages us. You'll be grumpy, anxious, tired, stiff, or fat instead of more fluid, graceful, fun and sparky. Your reality in body, mind, and spirit is a reflection of your habits. Your choices heal or undermine you." - Cate Stillman, Body Thrive.
In this book club, I want you to start to experience the benefits of good habits that will energize and heal your whole self. One habit per week is introduced, discussed and allows you to become aware of new choices to feel healthy. This is not an all or nothing learning experience. We are working on changing lifelong habits to new ones, it takes time to integrate them successfully. Small steps, big support and is backed by your host, Brenda Kyle with education in Ayurveda health and teaching Body Thrive professionally.
Ayurveda is the wisdom of longevity. It is balancing health, based on mind, body and spirit. We learn to listen to our bodies, mind/emotions and sync up with the rhythm of life, the seasons and our surrounding ecosystems. You do not have to be a vegan (vegetarian). Our health or lack there of is based on the health of the digestive system.
All of these sections are available under "Book Club" tab at the top of any page. This is just to make it easier to access any of the habits. Each habit video is in the Facebook group, under the "UNITS" tab in the left menu column.
It is amazing how much better you feel after nourishing yourself.
This is a time when your digestive system is winding down. As it slows, less food is key to loosing weight while feeling satisfied.
Habit 2 Early to bed August 27 through September 2, 2019)
A comfortable place to sleep
Learn how to design a bed time that supports your health, happiness and ability to show up the next day, energized!
Habit 3 Start your Day Right - September 3 through September 9, 2019)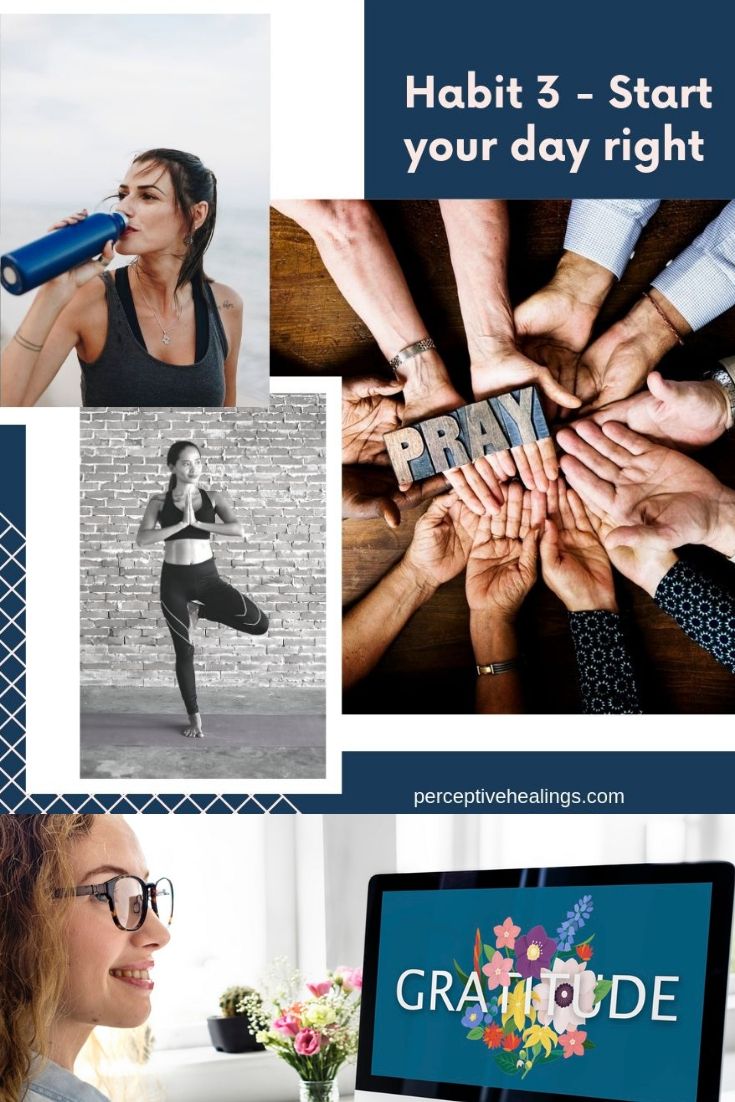 What are your favorite ways to start the day?
What broadens your perspective and sets your intention for the day?
Habit 4 Breath Body Practice (we are working on this habit right now) September 10 through September 16, 2019.
Breathing is your life force!
Moving, exercising, walking, going outside, yard work, yoga, mindful breathing, and Buddha breaths or stomach breathing (for beginners) are the ways to get oxygen to every cell in the body.
Habit 5 Plant-based Diet (we are working on this habit right now) September 17 through September 23, 2019.
Plants are the gift of deep nourishment.
What is available fresh, locally, in your garden, growing as a weed in your yard? Explore seasonal plants, vegetables and learn about edible weeds.
Things to know about Perceptive Habits Book Club:
Anyone can join at anytime. This is a free group, no cost.

Your host is Brenda Kyle (Green). Certified to teach Body Thrive professionally. I am an Ayurveda consultant trained by Cate Stillman, Yogahealer; which further deepens the knowledge and wisdom of health and how to help guide people towards balanced health.

The book you need is Body Thrive by Cate Stillman.

Please purchase it or download to an e-reader. Some libraries have it, check your local library. (I am an Amazon Associate and can earn from the purchase of this book. Your support is appreciated and contributes to the free classes - affiliate links)

There is a free workbook that accompanies this book and the link is available in our Facebook group - Perceptive Habits. Please download it and print it out. For those using Evernote, save the PDF to your digital account filing system.

Our club is an interactive and engaging group that will learn the habits as discussed in the book and videos covering each habit. This is a beginning step towards integrating 10 habits to "thrive". It all takes place online in the Facebook Group - PerceptiveHabits.

Starts August 13, 2019 - Tuesday and runs through October 2019.

The next round restarts on November 5, 2019.

You are welcome to stay in this community as long as you like, it is free and you will gain new knowledge while deepening your connections to the habits.

When you are ready to commit to fully integrating this lifestyle change to sustain a balanced healthy body - join in the members paid group for one year. This will be available March 2020 (exact dates and times will be posted in December 2019.

Your questions, comments, concerns, challenges, request for more insight and support are all welcome in our book club.

There will be an interactive Facebook messaging program available to you November 2019. I will make it more advanced by Spring 2020 to further assist you with questions, PDF files, policies, group values and more.